The Tuxedo Dolphin is an event friend in Tap Tap Fish: Abyssrium. It's a Bottlenose Dolphin clad in a black tuxedo with a white undershirt and red bowtie. He's balancing a martini glass with a citrus slice and cherry on his head, throwing his head up and bouncing it up into the air before catching it again and repeating the motion.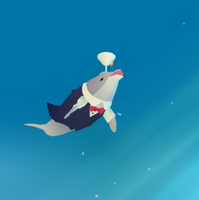 Requirements
Edit
The Tuxedo Dolphin costs 3.600 Cake and can be obtained by sharing 3 pictures of the Dress Dumbo Octopus while having the "1st Anniversary Night" theme activated, which can be bought for 500 cake. You don't need to technically post any of the Dumbo Octopus pictures for it to work, just press the "share" button and then backtrack.
Community content is available under
CC-BY-SA
unless otherwise noted.