Welcome to the AbyssRium Wiki!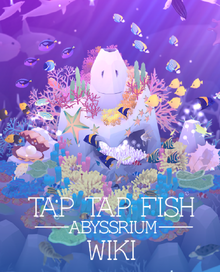 The encyclopedia about the popular mobile idle game series Tap Tap Fish: Abyssrium, where new and old fans alike can find guides, lists of fish, event information, and more for all three games! These Wikis are known to have many spoilers, but do be careful, as all pages will remain unmarked.
| | |
| --- | --- |
| Tap Tap Fish: AbyssRium | AbyssRium, now known as Tap Tap Fish: AbyssRium, is a VR supported mobile idle game centered around a Lonely Corallite, where you must earn Vitality in order to buy new fish friends and coral buddies for your rocky pal! Check out its main page here. |
| | |
| --- | --- |
| Tap Tap Fish: AbyssRium Pole | AbyssRium Pole is the second installment in the Tap Tap Fish series. It encompasses land, sea and air creatures and is centered around an iceberg. Most of the mechanics are similar to Tap Tap Fish: Abyssrium, and its main page can be found here. |
| | |
| --- | --- |
| Tap Tap Fish: AbyssRium World | AbyssRium World, the final (as of now) game in the trilogy, is a recently-released AbyssRium game set in a varied landscape. It features game mechanics different from any of those seen before in the series, including Exploration, Purity, and AO. You can see more information about it here. |
The AbyssRium Wiki only has a few active members, and with the lack of editors, it can become confusing to go through while it's in its recreation/organization phase. Our goal is to complete the wiki as much as we can so AbyssRium users can finally have a proper wiki that stays up-to-date! If you're confused on where to start, please make sure to read the Rules and Guidelines page and the Editing Guidelines page for more info. Thank you!




So far, we've amassed...
Want to stay up to date on new information and events? Why not join the community!